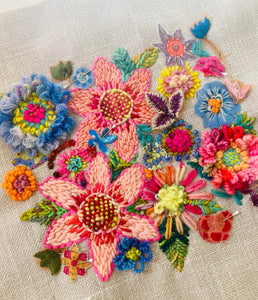 Saturday 2 March 9.30-12.30
134 Anzac Rd Mt Hawthorn
Exciting…Fabric, Floral and Stitch. 
If you have already done the Boho Stitch or the Blooming Grid workshop , or you just want to combine stitches and fabric to create something amazing, come along and make/stitch a beautiful piece with the addition of combining fabric flowers with your stitch. It's wonderful!
I will provide an assortment of beautiful hand dyed yarn and thread and wonderful floral fabrics for you to play with. You can take home what you need to finish your piece. You are welcome to bring along some of your own floral fabrics too.
This class is aimed at those who already know a few stitches and want to extend their knowledge with the addition of fabric.  
Please bring along your own sharp scissors and any floral fabric scraps you might like to use.
I will have scissors and floral fabrics too so don't stress if you don't have these things.
Enjoy a delicious afternoon tea too.
20cm x 20cm heavy weight linen
16cm bamboo hoop
needle
hand dyed yarns

floral fabrics galore