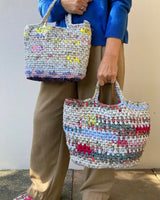 Crochet Bag Workshops in Perth, Sydney and Melbourne
I love making use of something I already have, whether it's fabric, yarn or garments. Making something useful and beautiful is my goal and this Crochet Bag is perfect.
In this workshop I will get you started on your crochet bag. Once you get the basics, there is a lot of room for your own individual designs, shape and size. I will provide a variety of cord, fabric and yarn that you can begin with and then you can continue to grow your bag from your own stash. I will give you ideas for sourcing and up-cycling if needed.
I will share my knowledge for completing a really beautiful and unique bag that you will love to use.
The crochet stitch is simple but using fabric can be tricky so basic crochet skills are required.
If you would like to bring along some of your own fabric you are very welcome, but it is optional.
This is what Jane thought about the workshop.
"I signed up to Pauline's crochet bag workshop on a whim, and I am so glad I did! It was lots of fun, I learned new skills and I came away with a partially completed crochet bag, confident that I can finish it on my own.
Pauline is welcoming, her instructions are clear, she is organised and she manages a group with diverse crocheting skills exceptionally well. In addition to assisting everyone with their projects, Pauline also serves a yummy afternoon tea! I highly recommend this workshop."

Crochet Bag Workshop
My girlfriend and I had a fabulous time at Pauline's crochet basket workshop in Perth last weekend. She was generous in her teaching, encouragement, materials and afternoon tea. It was great to learn from someone so talented and in such a lovely, fun atmosphere




Sophia van der Linden-Dhont
Pauline is an excellent teacher, who imparts her wonderful art in a clear way for her participants. Pauline also delights in letting everyone know how to make these beautiful scarfs using inexpensive things to make it affordable and achievable. My friend who came with me couldn't believe she finished her project as she had never before managed to complete any workshop she has been on - she's been on lots by the way. . I would highly recommend this workshop to anyone who is interested.
Margaret Wallace

Margaret Wallace
My thanks again for yesterday, Pauline. I learnt so much, and now feel I can get stuck into making samples over the next few days...I certainly appreciated your warmth and empathy. Thank you muchly.

Emma
Add customer reviews and testimonials to showcase your store's happy customers.

Author's name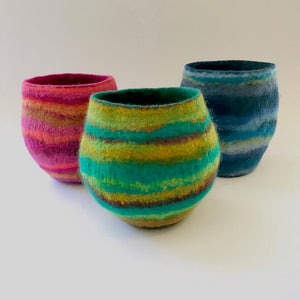 Online Workshops and Kits
I am a textile artist, maker and teacher.
I love getting people inspired to begin making.
With
these workshop tutorials you will be able to complete your own project
at home and gain that wonderful sense of achievement.
Every kit is made with care and attention to ensure you have everything you need.
Experience
the wonder of creating your own 3 dimensional seamless vessel. you will
learn to lay wool fleece, explore colour, surface design and form. All
materials, equipment and online tutorial video is provided in this kit.
Ava Stripe Vessel Kit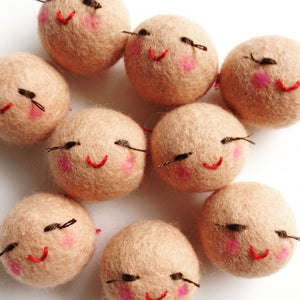 About Pauline...
Pauline has developed and explored her love of textiles through stitching, quilting and appliqué. When she discovered feltmaking the appeal was instant, a wonderful medium to combine vibrant colour, fine detail and glorious textures.
Learn to felt well and  make beautiful pieces from a master craftsperson and skilful teacher.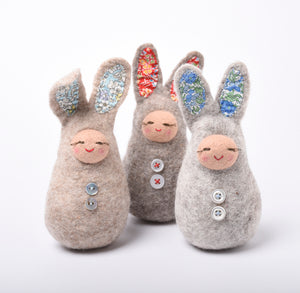 Posy Bunny Felting Kit
NOW AVAILABLE
Learn to felt and make your own cute Posy Bunny. The step by step video makes it so easy to follow along and do this at home.
Posy Bunny Felting KIt